Wilton House is a superbly preserved 1763 plantation house. This historic Virginia plantation is available for rent for a weekend or a week, accommodating up to six persons in three bedrooms. Wilton is a must destination for lovers of old homes. It is the perfect romantic weekend retreat from Washington, DC or Richmond. Wilton House may also be the perfect home base for a family visit to Colonial Williamsburg and Virginia's Historic Triangle. We can also accommodate special events for your group or organization. For all inquiries, see http://www.vrbo.com/506509.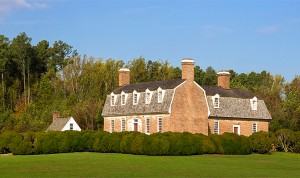 A Tidewater Virginia Plantation House. Wilton House was the seat of the Churchill family and the center of their vast landholdings between the Piankatank and Rappahannock Rivers along the southern end of Middlesex County in Tidewater Virginia. The house, completed in 1763, was built by William Churchill, the third generation of his family to occupy high positions in local and colonial government. We invite you to read on to learn more about this rich source of our country's history.
Preservation. Wilton House is one of the best preserved 18th century plantation houses in Virginia. History lovers and those fascinated by historic plantation architecture find it a delight to rent the historic Virginia plantation for vacation, weekend retreats from Washington, DC, or special events. To ensure its historical integrity, Preservation Virginia purchased the property in 2002 through its Revolving Fund, placed historic easements on it with the Virginia Department of Historic Resources and then sold the property back into private hands in 2011. Shortly thereafter, an intensive preservation and modernization project began that threaded heating, plumbing and electrical systems into, around and under Wilton's masonry walls and wood frame. Its historic fabric both preserved and strengthened, Wilton is now a house with a vital future as well as a distinguished past.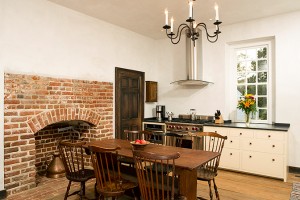 Your Stay at Wilton House. Beautifully furnished, elegant, Wilton is once again a place to be lived in and enjoyed — and in a way that connects the resident intimately with the past. And although it is not a "museum" house, at least not in the traditional sense, Wilton is a place you can visit and experience intimately. In what is a rare opportunity for American history enthusiasts, admirers of historic homes, or those simply seeking a unique and rewarding living experience, you can now book overnight accommodations at Wilton for a weekend, a week or a season. For that time, Wilton will be all yours, to enjoy and savor.
Community. Acknowledging the constructive role that this property can play in the broader community, Wilton will be made available from time to time for daytime visits by interested groups, students and the general public. These pages serve to share knowledge of Wilton, its preservation, its history and its place in the surrounding community.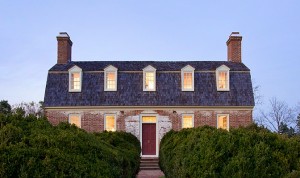 The Patina of History… Whether you visit for an hour or for several days, or rent the plantation for a historic vacation or event, the Wilton experience will be a multi-faceted one. There is the physical experience of the house as it has aged over time, the patina of old paint and bare heart-pine floors, the contrast of antique mahogany furnishings against stark white plaster, the honest brickwork of the exterior, the peaceful rural setting, and the outbuildings that remind that the past here was not always all sweetness and light.
…Pondering the Past. And then there are the intangibles that being at Wilton invokes: questions about the history of this place and the surrounding community, of the people who owned Wilton and of those who built it, of those who lived, and worked and died here. These pages touch, albeit briefly, on all these subjects. They invite your interest, your inquiries, your opinions, and perhaps even your contributions to the Wilton story. There is still much to be learned.