A Weekend or a Week
"I cannot imagine a more perfect place to celebrate Thanksgiving (or any other occasion)! I felt as if we were staying in a museum, but one with beautiful modern amenities such as luxurious linens and a beautifully equipped kitchen. The master bath alone is worth the visit."

It's for real. You can rent Wilton – all of it — for a weekend or a week, a month or a season. Enjoy the house and its serene rural setting, and make it your launching pad to explore the treasures of Tidewater Virginia, Colonial Williamsburg, and the Historic Triangle.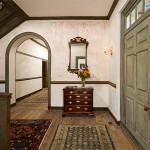 Wilton's eight graciously furnished rooms are filled with 18th and 19th century antiques, striking oriental rugs, and an alluring collection of 19th and 20th century paintings. The house can comfortably accommodate up to six guests in three bedrooms and three accompanying bathrooms. You will find many luxury touches at Wilton: top-of-the-line linens and towels, sparkling stemware, elegant china, and much, much more. But the best luxury of all will be to spend time in a place that is so real. Wilton and its 250-year history beckon. Rent a piece of history.
For more information on booking your reservation at Wilton, see www.vrbo.com/506509, or contact us directly at contact@wiltonhousevirginia.org.
Guest Reviews
The reviews are in, and it's no surprise. Everyone loves their stay at Wilton:
Lovers of old homes. "Wilton is a place apart. For those who value exquisite design, thoughtful accommodations and the very idea of historic preservation, this is an extraordinary experience."
Living history. "Wilton provides an incredible opportunity to live in what should be a house museum. The restoration/preservation is remarkable and the emphasis is on preservation. At the same time, discretely added 21st century baths and kitchen make the experience unsurpassed."

Discreet luxuries."Wilton has been beautifully preserved with incredible taste. But Wilton has so much more you would not expect – quiet luxuries that make the house fit a like a glove…. geothermal heating and cooling, a gourmet kitchen (with espresso machine), luxury bathrooms, a fascinating and well chosen array of fine art, lovely maintained grounds."

And more…"The house and grounds are beautifully restored and kept, and if anything, more impressive than they are described. The house was spotless. The manager Judith made sure we had everything we needed. Wilton may be a bit out of the way, but is more than worth seeking out. You will see why the reviews are all raves."